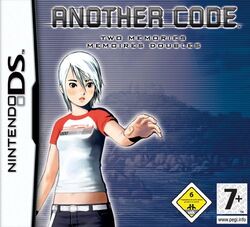 Another Code: Two Memories (アナザーコード 2つの記憶 Anazā Kōdo Futatsu no Kioku), released as Trace Memory in North America, is an adventure game developed by Cing and published by Nintendo for the Nintendo DS. It was relased in 2005 and is the first game of the Another Code series. The game centers on the 13-year-old Ashley Mizuki Robbins, who travels to Blood Edward Island and is in search for her father Richard Robbins and the truth behind the death of her mother Sayoko Robbins. The player takes control of Ashley and has to solve many puzzles that make use of the Nintendo DS hardware.
A sequel titled Another Code: R - A Journey into Lost Memories was released in 2009 for the Wii.
Synopsis
Edit
Two days before her fourteenth birthday, Ashley Mizuki Robbins receives a package from her father, Richard Robbins, whom she thought was dead. The package contained a small handheld device called a Dual Another System, or "DAS" (Dual Trace System, DTS in the American release), along with an invitation to meet him on Blood Edward Island. The following day, her and her aunt , Jessica Robbins, set off for the island. While there, Ashley meets "D", a ghost with no memories, who has been wandering the island alone for decades since his death. Ashley attempts to aide D in uncovering his lost memories, while also uncovering the truth about her father, the murder of her murder, and the mysterious project, code named "Another".
Characters
Edit
Implied characters
Edit
The player doesn't encounter the following characters in the game. They are only seen in flashbacks or on pictures. Most of them are members of the Edward family.
Sayoko Robbins – The late mother of Ashley. A brilliant Japanese scientist who was heavily involved in the Another project. Bill Edward murdered her in 1994 after she left the project in favour of her family.
Lawrence Edward – He was once the head of the Edward family. Lawrence had a son, Leonard, and took care of his two grandsons. When Lawrence was dying, only a small remnant of the Edward family's wealth was left.
Leonard Edward – The son of Lawrence. He left his family's mansion and had two sons, Henry and Thomas, but died young. Leonard's father took care of the two boys afterwards.
Henry Edward – A painter and Leonard's older son. He had a daughter named Franny. Henry commited suicide in 1948 after he shot his brother and after his nephew Daniel died in a series of tragic events.
Franny Edward – Henry's daugther. She was close friends with her cousin Daniel Edward.
Thomas Edward – A writer and Leonard's younger son. He had a son named Daniel. Thomas seeked to inherit the family's wealth and threatened his brother with a gun. However, Henry managed to shoot him.
Daniel Edward – Thomas's son. When he saw how Henry shot his father, Daniel fled and fell down a precipice in a cave, causing him to die. Ashley meets the ghost of this boy, who introduces himself by the nickname of D.
Wells – The butler of the Edward family.
The player will earn one of two variations of the ending.. The "good" ending occurs if the player has triggered enough of D's memories. D will remember his death, and will be able to to depart in peace.Whereas the player gets the "bad" ending by not triggering enough of D's memories, in which D does not remember how he died, and does not find peace. Dialogue from Ashley in Another Code: R - A Journey into Lost Memories confirms the "good ending" as canonical.
Community content is available under
CC-BY-SA
unless otherwise noted.